Call our Domination Hotline today! 1-888-209-1356.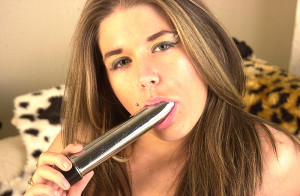 Phone sex has long been the media of choice for people all over the world who want to add spice to their sex life.  Indeed for some, phone sex is the only way they can have sex, (live and 1-on-1) with another person. With the exception of webcam perhaps.  As an advocate for the art of phone sex, and one who has performed in front of a web cam for the erotic privilege of a select few, I know first hand the power of audio suggestion and I still think that when it comes to the exploration of sexual desires, there is nothing quite like phone sex.
You see, a sexual encounter through a web cam session is one that relies almost exclusively on visual senses.  The arousal comes primarily by the physical attraction that a web cam artist might have on her (his) caller. Deprived of this visual component, (as in a phone sex chat), the mind then becomes the primary player, and a person who is an expert at the art of guiding a caller through the delicious maze of his (or her) fantasies can bring to that caller a level of sheer satisfaction unlike any other.
This is particularly true with Domination Phone Sex!
Men who call our Powerful Sexual Mistress hotline do so because they need (crave) to submit and be controlled by a beautiful FEMDOM.
A domination session with us deals with most aspects of fetish domination fantasies, and whether you want to be tied up, whipped, spanked, humiliated, disciplined, teased and any other delicious domination related fantasies out there, now is the time to act.
Call 1-888-209-1356 Now!
Whether your interest lies in bondage & discipline, strap-on exploration (pegging), forced feminization (sissy training), forced cock sucking (fellatio), sadomasochism (S/M), queening, corporal punishment, cuckoldry, toilet training and more then you need to pick the phone and call our domination sex line. 1-888-209-1356
Phone sex with Karen Domina is totally private and absolutely confidential. We want to inspire you, educate and play with you, fantasize with you (and nothing is too taboo), guide you, help you, and ultimately make you come. For some of our callers, the actual act of ejaculation is not necessarily their motivation to call.  Indeed, when it comes to domination issues, the sky is the limit and the ultimate goal is (for some) not always to have an orgasm.
But guided masturbation is part and parcel of what we do, the exploration of power exchange, the challenges of gay, straight, bi fantasies that are sometimes screaming to be explored, all these and more make us unique and unlike any other domination hotline out there.
Call 888-209-1356